With wellness and safety as our first priority, all Alliance Sales are back to running live and in-lane!**
---
Simulcast available
Fridays at 9:45am
Not Registered? Get Registered Now!
Contact Us
15735 N. I-35 Frontage Rd.
Elm Mott, TX 76640
254-829-0123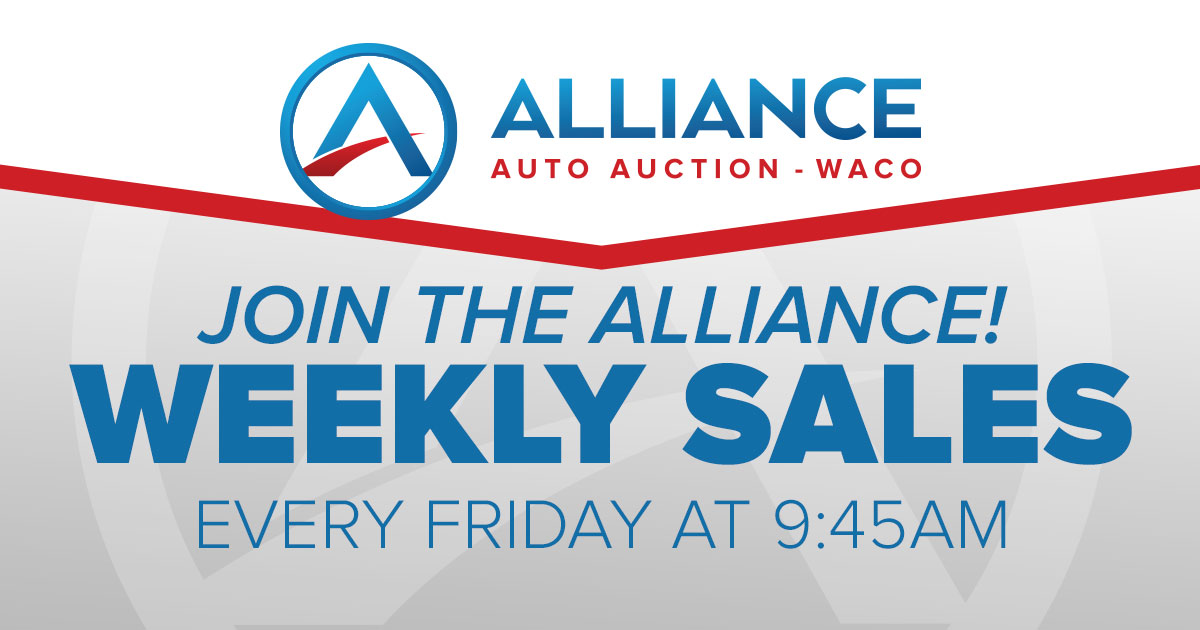 Alliance Auto Auction: Waco, TX
Nestled between Austin and Dallas you can find your one-stop shop at Alliance Auto Auction – Waco. With an amazing 17 acre facility located directly off of I-35 S, we have the ability to capture buyers and sellers from both the north and south Texas regions. We specialize in weekly dealer consignment and NCT sales but offer monthly repo & promotional sales, and absolute runs from local fleet consignor ONCOR.
Building long-lasting relationships with our customers is our primary focus. We go above and beyond to market reputable sellers to our buyers with our Elite Seller program. We also offer a wide variety of services to fit any dealer's needs. We have a staff of in-house drivers for quick and easy transportation options, pre-sale and post-sale inspection options, detail and wash & vac services, and title clerks on staff to help with those hard to answer questions.
At Alliance Waco, our friendly and knowledgeable staff is always around to greet you with a smile and helping hand. As with all Alliance Auctions, you can expect impeccable customer service with a down-home friendly feel. You will always be treated fairly, and your business is earned and never expected. Come join us every Friday at 9:45 am and remember, breakfast and lunch are always on us!
Office Hours (COVID-19)
| | |
| --- | --- |
| Monday | 10:00 am - 4:00 pm |
| Tuesday | 10:00 am - 4:00 pm |
| Wednesday | 10:00 am - 4:00 pm |
| Thursday | 9:00 am - 5:00 pm |
| Friday | 8:00 am - 5:00 pm |
Gate Hours (COVID-19)
| | |
| --- | --- |
| Monday | 10:00 am - 4:00 pm |
| Tuesday | 10:00 am - 4:00 pm |
| Wednesday | 10:00 am - 4:00 pm |
| Thursday | 9:00 am - 6:00 pm |
| Friday | 8:00 am - 6:00 pm |